Due to the Coronaviurs pandemic, our surgery doors are closed, unless you have a face-to-face appointment. Please see below for the current procedures in surgery:
If you require an appointment, please call our reception team between 8:00 and 10:00 to book an on-the-day phone consultation. We are unable to book face-to-face appointments until you have been triaged by a Clinician.
We cannot hand out prescriptions at the surgery, and patients without a pharmacy nomination will have their prescriptions sent to a pharmacy local to the surgery.
If you have anything to hand in, please leave it in the surgery letterbox. Please make sure your details are clearly written.
Due to high demand, please allow 5 working days for prescriptions to be processed at the current time.
If you are attending surgery, please press the intercom buzzer once and wait outside. Our receptionists are busy answering the phones and the door, and will be with you as soon as possible.
Please do not enter the surgery without speaking to reception via the intercom first.
Our reception staff cannot book appointments via the intercom outside the surgery, please phone the surgery for this.
If you are collecting anything from the surgery, reception will bring it out so you do not have to enter the surgery. Please collect non-urgent items after 2pm, as we are very busy in the mornings.
If you are entering the surgery, you must wear a face covering and socially distance whilst you are inside. Hand sanitiser is available. These procedures will still apply after 19th July 2021.
Symptoms and Testing
Do not leave your home if you have:
a high temperature - this means you feel hot to touch on your chest or back (you do not need to measure your temperature)
a new continuous cough - this means coughing a lot more than an hour, or 3 or more coughing episodes in 24 hours (if you usually have a cough, it may be worse than usual)
a change in your usual sense of taste/smell
To protect others, do not go to places like a GP surgery, pharmacy or hospital. Stay at home.
Getting Tested:
If you have any of the above symptoms and need to get tested, you can get a free PCR test to check if you have Coronavirus by clicking here.
Further information about getting tested can be found on gov.uk and nhs.uk.
If you are unable to go online to book a coronavirus test, please call 119 between 7am and 11pm.
If you need further advice or guidance, please contact the Bexley Coronavirus Helpline on 020 3045 5398.
Allergies VS Coronavirus Symptoms
Coronavirus Vaccinations
Book or manage your COVID-19 vaccination
COVID-19 vaccination pop-up and walk-in clinics
Please do not contact the surgery to inquire about the COVID-19 vaccination programme, or to request the vaccination before you have been contacted to book. We will contact patients as the programme is rolled out, in accordance with government guidelines.
Patients contacting to inquire about their vaccination may disrupt the surgery contacting those who are eligable, and may result in a delay of bookings.
Please speak to our reception team if you would like to confirm we have the correct contact details for you.
If you have been invited to book your Coronavirus Vaccination by the surgery or the NHS, you can do so here. If you have been invited by the surgery, you may recieve a link via text to book at accurx.thirdparty.nhs.uk. You will only be able to book if you meet the criteria listed.
More information about the vaccination programme and FAQs can be found at;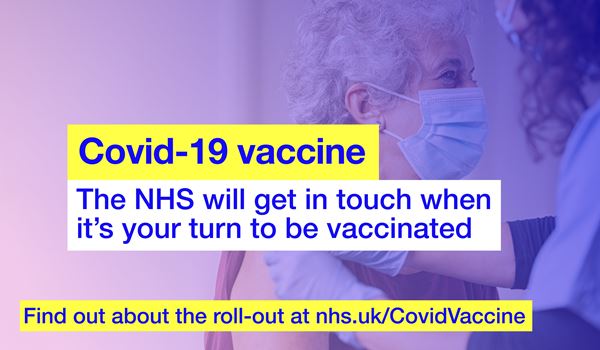 COVID-19 Vaccination Status (NHS COVID Pass)
From 17th May 2021, people in England who have been fully vaccinated against COVID-19 can demonstrate their vaccination status for international travel. A full course is currently two doses of any approved vaccine.
Vaccine status will be available from the NHS App, which you can download from app stores, or by requesting a letter from this site.
The NHS App requires an NHS Login to access, and may need to submit photo ID to verify your identity. More information about NHS Login can be found here. It may take more than a week for your identity to be checked and verified so you can use these services.
Please see NHS App Help & Support and the NHS Login Help Centre if you are having any issues with using the NHS App or NHS Login.
If you cannot access these online services, and you have had 2 vaccines, you can request a paper letter from the NHS by calling 119. Only call 119 if you had your second dose more than 5 working days ago. It may take 7 working days for the letter to arrive.
The practice is not able to provide you with a letter that shows your COVID-19 vaccination status.
When you're planning your travel, check the latest information on demonstrating your COVID-19 status when travelling abroad on the gov.uk website. Make sure there is time to get proof of your vaccination status before you leave.
More information about how to access your COVID-19 vaccination status can be found at gov.uk and nhs.uk.
Statement to manage people who ask for proof of vaccination (May 2021)
COVID-19 vaccination status: what your confirmation letter tells you
Coronavirus and Cancer: Advice during COVID-19
It is concerning that patients who might have symptoms that could be cancer, or changes unusual for them, are not seeking help from their GP during the pandemic.
We would like to reinforce the importance of contacting the surgery without delay, if you are worried about changes or symptoms.
More information can be found at www.cancerresearchuk.org